Sod & Seed Lawns
When it comes to lawn installation, California Creations offers two different options- Sod & Seed Lawns. Regardless of which one you choose, we use the highest-quality materials and the latest equipment. We use the best seed which also provides a better quality lawn.
About Seed Lawns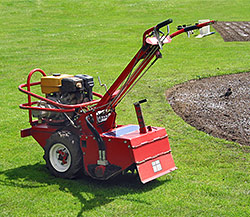 We use only the highest-grade seed and ensure that the seed is sown in an even manner right across the lawn. We are also able to customize the seed mix to suit the home environment. Take a look at the advantages of using seed:
Economical
The soil can be prepared as required
You get a variety of grass varieties to choose from
Fuller and plush lawns
Higher survival rate
Can be grown in odd shaped spots and lawn areas easily
The grass will take longer to grow, but it will root itself firmly in the ground
When we seed the lawn for you, the best quality of grass will be in your landscaping and you will have lush green surroundings within a couple of months.
About Sod Lawns
Sod is very different from seed. This option is chosen by customers who are looking for a more "instant" option. This is grass which has already grown up to a certain point, It is available in rolls which can be cut to the desired size of lawn. The sod that we use is of the highest grade and is grown on the best grass farms. The installation will be either in rolls or squares. The type of sod will depend on the variety of grass that you want. The advantages to using sod are: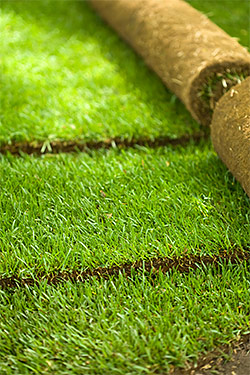 Fast installation
No messy mud to deal with while the grass is growing
Though the initial costs are high, in the long run, the maintenance costs are low and it become a more cost-efficient option
Its healthy since it is grown on farms
It provides a dense lawn much quicker
It prevents soil erosion
As you can see, there are some distinct advantages to both, sod and seed lawns and the one you choose will be more of a personal choice. Once you have decided which one suits your requirement and budget the best, our expert lawn installers will ensure that the work is carried out to your satisfaction and you will have a beautiful, lush lawn within no time at all.
Expert Lawn Installation
We are the landscape experts in San Fernando, Santa Clarita, Simi Valley and are able to provide you full-service landscaping services. If you require, we can also provide you with lawn maintenance services. While we are installing the sod or sowing the seed, we will ensure that the irrigation system is up to the mark and that the lawn is going to get the kind of watering it requires. You can contact California Creations on 818-083-1213 for all your Sod & Seed Lawns requirements in and around Sylmar, CA.