Outdoor Lighting
Today, homeowners are paying a lot of attention to the way in which their homes and the outdoor spaces on their property are designed and maintained. Landscaping incorporates a number of aspects like hardscaping, softscaping, water features, patios, decks, gazebos and pergolas. But all these features and elements will have the right impact only when the landscape has the right kind of outdoor lighting.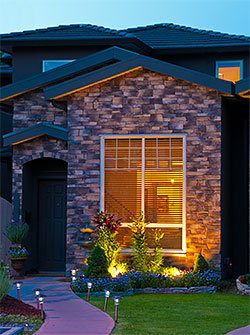 This is one aspect of landscaping that tends to be overlooked. In most cases, outdoor lighting on a property consists of focusing floodlights on the exterior of the building. But that does not have the right impact. As a matter of fact, it can make outdoor spaces look stark and uninviting.
Types of Outdoor Lighting
On the other hand, when California Creations plans and installs outdoor lighting elements on your property, it adds a very welcoming look and encourages you to step outdoors and use these areas that you have so thoughtfully planned. We can plan the perfect and customized outdoor lighting solutions for your property and will effectively highlight all the features like ponds, fountains and hardscaping. We can add:
Exterior building lights
Pathway and driveway lights
Concealed lighting in columns and pillars
Solar paver installation
Pool area lighting and illumination
Post lighting
Patio and outdoor kitchen lighting
Roof lighting
Tree spotlighting
Water feature lighting enhancement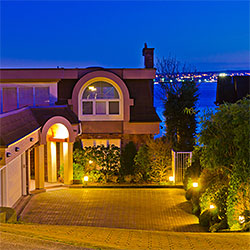 When you contact us with your outdoor lighting requirement, we first understand what your vision for these outdoor spaces is and the kind of ambience you are looking to create. Once we have understood that, we provide you with customized solutions which are a mix-and-match of different outdoor lighting elements.
Our solutions will help in visually expanding the indoor spaces into all the outdoor ones on your property and the effect will be truly impactful and alluring. Outdoor lighting adds curb appeal to your property and ups it value as well. We will plan all the solutions to perfection and focus on aspects like:
The actual number of lights
Spotlighting landscape features you like
Safety and utility
Energy efficiency
Using solar lights if possible and as required
Using LED bulbs- these offer 80% efficiency and can last for thousands of hours
Low maintenance
High quality products and wiring installation
The Perfect Solutions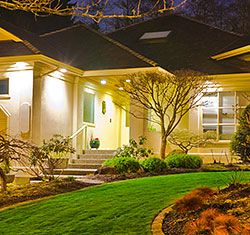 Every one of the outdoor lighting solutions that California Creations offers is high-value, low maintenance, will provide optimal illumination and create the perfect ambience for your property. We are very attentive to detailing and maintain very competitive pricing without cutting any corners in our work. If you have a plan or an idea, we can work on it.
Alternatively, if you need us to suggest which solutions will work best, we can do that too.
You can send us all your outdoor lighting queries via this online form or call us on 818-083-1213. We will provide you with the best quotes and customized outdoor lighting solutions that are low maintenance and pocket friendly. Call us with your requirement today.