Masonry
Masonry is an inseparable part of landscaping and the construction of outdoor features. California Creations has been providing masonry services to hundreds of customers across San Fernando, Santa Clarita, Simi Valley for a number of years now. Take a look at the different masonry features we can provide:
Block & Brick Walls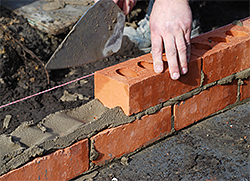 Walls made of block concrete or brick are very often used in landscaping to add to the functionality and aesthetics of the place:
On properties that have graded land, we can construct retaining walls that lend support to the landscaping and prevent soil erosion. These retaining walls can be used to hold back slopes and create driveways and walkways on your property.


At certain spots, freestanding walls may be required. These could be built as privacy screens or to demarcate areas on the property and to direct human and vehicular traffic


We can also build planter walls and these are specifically used to hold soil and plants. The seat walls generally serve a dual purpose. These are half-height walls that have in-built seats. They could provide seating in outdoor kitchens our outdoor spaces that have a fireplace or fire pit and are highly functional walls


Stone & Boulders (Natural & Artificial)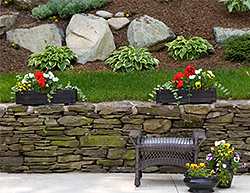 Stone and boulders are extensively used in landscapes to add to the solidity and create focal points:
These masonry features balance out the softscaping like turf, trees, shrubs and flower beds
We can provide you with natural and artificial stones and boulders to enhance the look of your landscaping.
We create very artistic structures, and with the right kind of setting and outdoor lighting, these stones and boulders can easily become the focal point of the landscape.
Pavers
These are a definite favorite in landscapes across Sylmar, CA and are used in driveways, pathways, walkways, decks, pool areas, patios, outdoor kitchens etc: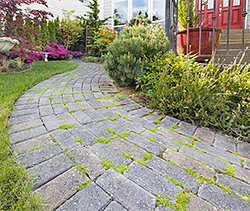 These could be made of concrete, brick or natural stone and add a very distinctive look to any space
They are interlocking units and the entire masonry installation is durable, strong, low-maintenance and very competitively-priced
Pavers made of natural stone tend to be a little more expensive than the ones made of brick or concrete, but are very good value in the long run
Tile
Tiles can be used in flooring or for wall cladding and can be found in a range of materials from natural stone to ceramic and travertine. Textured tiles can also be installed on driveways and they provide s kid-free surface. They can be used to clad edgings and borders along walkways and paths in the landscaping
As you can see, there are a number of masonry materials that can be used to enhance the look of landscaping. California Creations has years of experience in this space and we can install the kind of features you like in materials of your choice to give you the landscape you had envisioned. Contact us on 818-083-1213 or send us your queries on this online form.