Drainage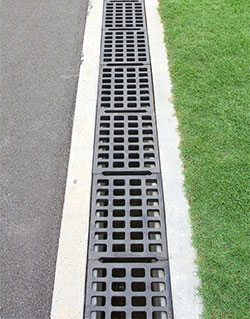 Having a beautiful property is a lot about maintaining it right. Maintenance is never a one-time job and any landscape needs constant and expert attention to keep it healthy and looking new. Just as mowing, pruning, trimming, cleaning and power-washing are an essential part of any landscape maintenance, it is also important to pay attention to irrigation and drainage services.
Perfect Planning
When California Creations handles any landscaping projects, we make sure that all the irrigation and drainage aspects are planned and installed to perfection. But if you have an existing landscape which has water pooling or flooding issues, it can do significant amount of damage to your property. Just as we handle all landscape maintenance work, we also provide drainage services to customers across the region.
If you find any kind of pooling of water on your property, we are the company to call. We will survey the land and identify where the problem lies. Based on what the problem is and its severity, we will then provide you with suitable and customized drainage services. We ensure that the work is carried out with the least amount of disruption and that the entire task is carried out in a methodical and specialized manner.
Types of Drains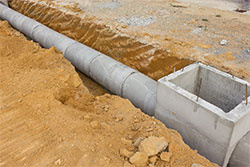 We have installed and repaired hundreds of drainage systems in landscapes for homeowners in San Fernando, Santa Clarita and Simi Valley and many other areas. We provide a range of drainage solutions and the different types of drains that we can install are:
Area Drains - On most properties, drainage system are made up of just a simple drain which is connected a single underground pipe. This is the perfect solution for any kind of low-lying area or if you find constant flooding on your property. The accumulated water will be drained out via this system into the common street-drainage system & will protect your beautiful landscape from damage


Channel Drains - These drains are a great solution to protect your lawn/garden from patio runoff. These are very long and channel-like drains which can be installed either on a sidewalk/ concrete surface. They direct the water away from, these outdoor spaces on your property and are excellent for areas surrounding pools


French Drains - These are effective in draining water from planters or landscaping. This particular drain is wrapped in a landscaping fabric and then covered with rocks. It prevents the roots of trees and plants and the surrounding soil from clogging-up the drains


Expert Services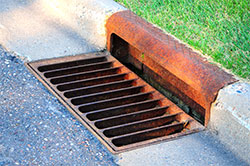 In addition to the different types of drains mentioned above, we may install foundation drains or will install gutters or storm water drains as required. The aim of all this planning and mix-and-match of solutions is to ensure that your property stays free of standing or pooling water.
This will keep your landscape protected and will save you a lot of time, money and effort in the long run. If you are looking for expert drainage services in the Sylmar, CA region, contact California Creations on 818-083-1213. You can send us your requests via our online form