Outdoor Living Spaces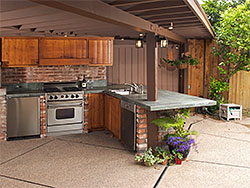 Outdoor spaces on your property are an extension of the indoors and it is important to treat them that way. California Creations has been creating the most stunning outdoor living areas for customers in the San Fernando, Santa Clarita and Simi Valley region. When you buy a home, you also get attracted to the outdoor area. But if you want to use it optimally, it will have to be designed accordingly as well.
A Range of Features
There are different features like outdoor kitchens, pergolas, gazebos and arbors that can be added to different areas of the landscape to create the functionality and impact you are looking for. We are able to provide you with customized outdoor living solutions and design the kind of spaces you want:
Gazebo - This is a standalone outdoor living garden feature that has a roof which rests on columns. A gazebo can have half-height walls with the columns above that height. These columns and trellises can have vines growing over them to create a quaint and shades place semi-open space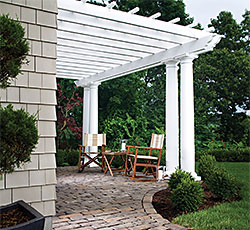 Pergola - Many people tend to confuse this with a gazebo, but a pergola can be added to a patio and might also stand against the exterior wall of a house. It is light structure, akin to a gazebo but might be used at the end of a pathway as well. It can be the focal point of your garden or yard


Arbor - This free-standing structure is made up of supports on either side as well as across the top and is generally constructed over a pathway or an entrance way. You can grow creeping plants climb the lattices and it will provide a certain amount of shade


Outdoor Kitchens - Today, these have become an inseparable feature of outdoor living. They are generally an extension of the indoors and can be as simple or elaborate as you want them to be


Barbeques - The outdoor kitchens can be outfitted with barbecues and grills and make for fantastic spot to enjoy your leisure time with family and friends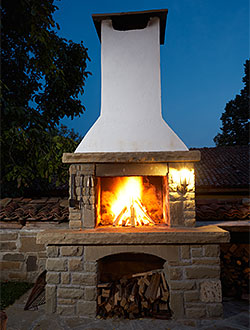 Fire Places & Fire Pits - These add the perfect balance with the fire element. They create cozy spots in outdoor spaces or any of the outdoor features that have just been mentioned. They can be made of concrete, stone or brick and we can design comfortable seating spaces around them as required


Water Features - The addition of water features makes an amazing impact on the look of your landscape. Fountains, waterfalls or ponds can be added as a focal point in the landscaping. If you are looking for a low-maintenance water feature, you can opt for a pondless waterfall or fountain.


And so, we at California Creations offer you the most comprehensive landscaping solutions. These outdoor living spaces create just the right ambience and make these areas more welcoming and livable. We customize all these options for you and ensure that you have spaces that you will love to live in and show off too. Contact us on 818-083-1213 or via this online form.