Services
Our Services
Whether your needs involve landscape or interior work, we work from concept to completion and within your budget to get the job done. Residential, commercial, industrial, or military projects. We do it all!
Some landscape company services we provide are: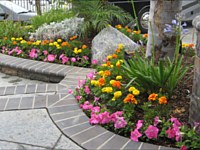 Landscape Design & Installation: there is no doubt that a well designed landscape is hard to pass by without noticing. Let our professional team of designers and contractor's custom design and install a landscape setting that suits your needs, your budget and your property. You will be delighted with our quality of craftsmanship and attention to detail! Read More >>
Concrete & Masonry: if you are thinking about installing a concrete patio, driveway, pool decks or walkway then we are the right company for the job. With many years of experience in the concrete and masonry industry; we can install all types of decorative concrete and masonry materials to your specifications. Read More >>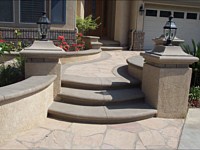 General Construction: some our general construction services include irrigation, plumbing, drainage, electrical work, design, engineering, demolitions, excavation, hauling, doors & windows, painting, remodelling, roofing, stucco and drywall. Contact us today and we will arrange a free consultation for your next project! Read More >>
Tree Trimming & Removal: at California Creations we have a team of professional tree trimming and removal contractors. Believe it or not, it does take a lot of experience to trim trees correctly and also to remove trees safely. We have all the knowledge and all the right type of equipment to get all your tree work done in an efficient and safe manner. Read More >>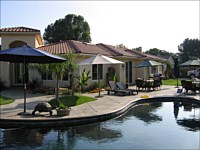 Swimming Pools: the addition of a swimming pool to any property will increase the value instantly. But it will also provide you, your family and friends the great option have having a dip whenever you like. Invite everyone over and have some great gatherings around the new swimming pool. You will have so much fun and all in the comfort of your own backyard! Read More >>
Artificial Turf: we all want a lawn that is green and healthy looking, right? And wouldn't it be even better if we could have that all year round and without having to mow it, water it or fertilize it? This is all possible and more with the installation of an artificial turf lawn. Read More >>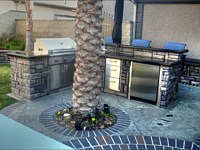 Outdoor Living: homeowners are placing a lot more importance on their outdoor living areas nowadays. There is good reason for this too. Why not use your outdoor space to increase the amount of living space you have into the outdoors? We can add fireplaces, outdoor kitchens and seating walls; the options are endless! Read More >>
Government Contracting: at California Creations, we have built many different government facilities like healthcare centers, offices and public recreation sites. We have a deep understanding of all the requirements for government buildings and that is why we are a popular choice for such projects! Read More >>
We also are a general contractor!