Asphalt
Asphalt is essentially a paving material that is made with stone aggregates, water & bitumen- which is a very sticky variant of petroleum. There was a time when it was very popularly used in driveways as it was a highly durable and cost-effective material. Though its durability is not in question today, the cost of any blacktop driveway that has some form of oil is now significantly higher.
Some Facts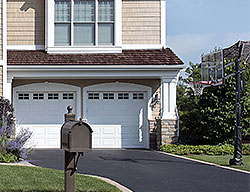 In addition to this, the fact that concrete is now more popularly used in landscaping has pushed asphalt a bit into the shadows in residential and commercial applications. One more impacting factor is that a number of people hold a very common misconception- that when it comes to using asphalt in their landscaping; boring black is the only option they have. The truth of the matter is that this material is versatile and offers quite a few decorative options, which still makes it in ideal material for driveways etc.
Types of Asphalt Driveways
California Creations has installed hundreds of asphalt driveways across the region and we know that it's a material that cannot be written-off so easily. Let's take a look at the different asphalt options available: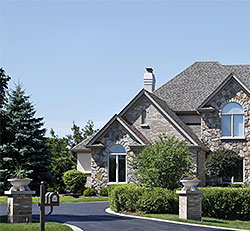 Recycled Asphalt Driveways - Also called RAP is now gaining in popularity as a driveway material. In this kind of driveway, the current blacktop surface is first ground-up into gravel-sized pieces that can be re-laid in that same space. Since this material still contains a lot of the oil that it originally had, over time, the material will bind and be more cohesive than the standard gravel. Any recycled asphalt driveway ends up costing much less than an entirely new one


Tar & Chip Driveways - This is another option that looks akin to gravel, but has the strength and durability of asphalt. The tar &chip option is essentially asphalt with stone aggregate that has been seeded into its surface. This kind of a driveway looks much more natural & lighter than standard asphalt. What is notable is that this material also provides very good traction (but snow removal can be a task). In addition, since its surface does not require sealing, installation costs are lower.


Colored and Stamped Asphalt - You can opt for any type of decorative asphalt that uses techniques which give you the flexibility to create a number of shades and colors- ranging from bold to soft, warm and creamy ones. Some brands also have asphalt in up to 24 different colors. Just like concrete, the asphalt driveway can also be stamped to look like stone, pavers or brick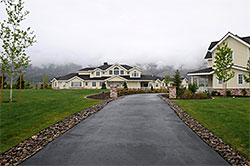 Focus on Quality
And so, do not let the traditional perception of this material deter you from using it in your landscaping projects. California Creations offers full-service landscape solutions and can give you the kind of asphalt driveway you want in and around San Fernando, Santa Clarita, Simi Valley. We are the landscapers of choice in the region who focus on quality and maintain realistic pricing. If you need any more information about our services, feel free to use this online form or contact us on 818-083-1213.