Concrete
Concrete is a very popular option in residential landscaping. It is an amazingly versatile material, can be used in a variety of applications and is available in a range of colors and finishes. California Creations can give you the kind of concrete foundations, driveways & walkways, patios & decks and decorative concrete paths and walkways as required in your landscape design. We can create custom designs and you can have the unique and attractive driveway you want. Take a look at why this material can be used in so many applications: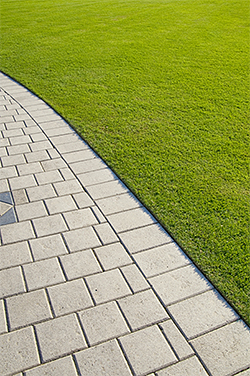 Decorative Concrete - This is becoming a very popular option for a number of residential and commercial spaces. It can be used as flooring for semi-outdoor spaces like outdoor kitchens or even in covered porches or other areas of your home. We can give it a different look by coloring and stamping it. The stamp design can make it mimic stone, brick or pavers and allows you to match it to the look and architectural styling of your home


Driveways & Walkways - Since concrete is an extremely strong and durable material; it is excellent for driveways and walkways. It has good traction, is very low maintenance and is cost-effective in the long run. Once this has been installed, you do not have to worry about it for years to come


Patios & Decks - These areas are now becoming an inseparable part of residential landscapes. Outdoor living concepts are very much in style now and we can create different effects with concrete flooring for your patios and decks


Foundations - Concrete has for long been used as a foundation material. It provides a very strong base for landscaping features like fireplaces, fire pits, retaining walls, pillars and columns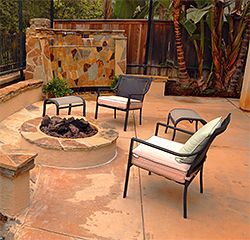 So are the Benefits of Concrete?
It is a highly durable and strong material that is able to hold its form even in extreme temperatures. We install concrete with the required number of control joints which makes it withstand even natural calamities like earthquakes
It is an extremely versatile material and can be textured and stamped as required
You can achieve the look you want with different colors and stains and the material can be polished to sheen for industrial, commercial as well as residential spaces
Since there are no seams, installation is easier
Concrete is easy to maintain
It can be used for paving, borders and retaining wall structures
It is a very cost-effective option for landscape projects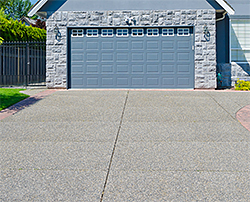 The Preferred Landscaping Option
With so many benefits, it's no surprise that concrete is now becoming the preferred material for landscaping features. But is also very important to keep in mind that you will need a skilled landscape designer and installer like California Creations to give you the kind of concrete installation you require. We use the bet materials and highly-skilled and trained personnel will carry out the work to perfection. Contact us on 818-083-1213 for a quote today for any kind of concrete installation in and around San Fernando, Santa Clarita, Simi Valley.